Collections of invertebrate etalon specimens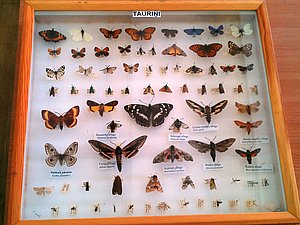 Collections of invertebrate etalon specimens of LUBI
Insecta. The beginning of the entomological collection of Institute of Biology University of Latvia (LUBI) is dated around 1950's. Various active entomologists working in the territory of Latvia as well as employees from Institute of Biology have been taking part in collecting and identifying numerous specimens. Several respectable dissertations and scientific projects have been developed alongside with this collection. Species lists and notes on the material of the collection have been published in different scientific articles. The collection consists of 4000 specimens: Diptera (Brachycera) with 1060 species from 46 families and Diptera (Nematocera) with 400 species from 6 families, true bugs (Heteroptera) with 300 species from 23 families, beetles (Coleoptera) with 40 families and other groups of insects that are represented by fewer species. The verification of the species has been performed by many experts in taxonomy from Latvia (Z. Spuris, S. Kuznetzov, N. Kuznetzova and K. Vilks), Estonia (K. Elberg and E. Remm), Lithuania (S. Pakalniskis), Russia (E. Nartchuk, V. Zaitzev, V.Rihter, V. Tanasiytshuk, A. Lobanov), Ukraine (V. Korneyev), Sweden (S. Echer), Switzerland (G. Baechli) and Czech Republic (J. Rohάček). The collection is mainly used as the reference material by many students from Universities in Latvia and foreign countries.
Cryptostigmata. An etalon collection representing more than 140 different species from 46 families of armoured mites (Acari: Oribatida) registered in the territory of Latvia is deposited in the Institute of Biology University of Latvia. These etalons can be effectively used in a wide range of daily studies and no doubt they are essential to increase the scientific level. Additionally, juvenile specimens representing different developmental stages are included in the collection. Informative background is ordered in a comprehensive database. The accordance to nowadays taxonomical principles of the collection is confirmed by various European leading oribatid taxonomists from Germany, Finland and Georgia.
Mesostigmata. About 250 species from 16 families of Mesostigmata (Acari, Parasitiformes) are prepared and deposited in the Institute of Biology University of Latvia. The collection has been gathered by most active acarologists till now working in the territory of Latvia. Holotypes of two new species to science Uropoda ocellata and Oplitis latvica are included significantly increasing the value of this collection. Mesostigmata specimens sampled from Baltic Sea coast habitats in Poland and Germany have been dedicated by Dr. Stephan Heldt (University of Bremen) and also are included in the collection with 50 different species in total. Additionally, unique specimens of 30 species from soil and ground beetle samples in Indonesia are present in the collection.
List of etalon specimens see here
List of unidentified specimens see here