LATVIA and BELARUS cooperation projects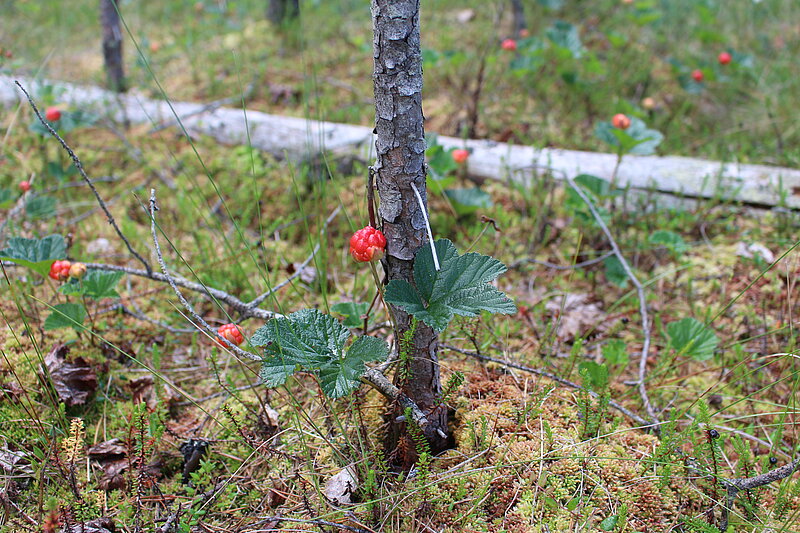 EVALUATION OF THE CLOUDBERRY (RUBUS CHAMAEMORUS L.) GENETIC RESOURCES OF LATVIA AND BELARUS AS A BACKGROUND FOR THE BREEDING PROGRAM AND CONSERVATION
The project's scientific leader from the Latvian side: Asoc. Prof. Dr. biol Dace Grauda
Project partners: Central Botanical Garden of the National Academy of Science of Belarus
Project annotation: Researchers of the Institute of Biology of the University of Latvia in collaboration with colleagues from the Central Botanical Garden of the National Academy of Science of Belarus have begun the project "Evaluation of the cloudberry (Rubus chamaemorus L.) genetic resources of Latvia and Belarus as a background for the breeding program and conservation". The project is implemented as a part of collaboration program in the field of science and technologies supported by the ministry of education and Science of the Republic of Latvia and State Committee on Science and Technology of the Republic of Belarus.
The widespread localities of cloudberries in Latvia, and especially in Belarus, are close to the southern spread areal. Cloudberries by their biochemical composition are very rich and valuable berries. Taking into account the rarity of cloudberries in Belarus, and the decreasing harvest of cloudberries in Latvia, caused by the loss of suitable habitats, research of cloudberry genetic variability and population genetic structure following by collecting of specific samples for further reproduction it is essential to get starting material for development of new methods that can be applied for commercial purposes.
The knowledge and seed material gained during the execution of the project will give the possibility to create a species conservation strategy and to create a breeding raw material base.
Project target: To commence Latvian and Belarusian cloudberry genetic variety research, to develop species retaining strategies and collection of perspective plant material for the creation of a base for breeding.
Project participants from Latvia: Dr. biol. Dace Grauda, Dr. biol. Dalius Butkauskas, Dr. habil. biol. Isaak Rashals, MSc. biol. Nikole Krasņevska, Dr. biol. Anita Osvalde, BSc. biol. Sandra Dombrovska
Project participants from Belarus: Dr. biol. Vladimir Titok, Dr. biol. Boris Anochenko, Dr. biol. Alesia Kruchonok, Dr. biol. Eugenij Popov, Dr. biol. Larisa Sidor.
Taiwan – Latvia - Lithuania Cooperation Project 
Comparative study of vitamin D and its receptor gene polymorphisms in Lithuanian, Latvian, and Taiwanese children and adults with atopic dermatitis and asthma
Year 2020-202
Chr2onic allergic disorders, such as atopic dermatitis (AD) and asthma, are complex diseases affecting nearly 300 million individuals worldwide. The rising incidence of asthma and atopic diseases over the past decades attests to the importance of the environmental and lifestyle factors in disease risk assessment. Despite the different environmental factors, such as sun exposure in different altitude, temperature, geographical location, and the eating habits, the prevalence of AD and asthma is increasing in Taiwan, Latvia, and Lithuania.
The role of vitamin D is well known in pathogenesis of multiple allergic diseases, including asthma, AD, and food allergy. Because it affects the human body not only through diet but also via climate and lifestyle, hence vitamin D is considered to be an important environmental factor in the development of allergic diseases.
The aim of this study: to estimate possible correlation between serum vitamin D level, vitamin D receptor genetic polymorphisms and gut microbiome in Lithuanian, Latvian and Taiwanese children and adults with AD and/or asthma.
We believe that this is the first study which compares the same allergic diseases in populations with different geographical and ecological factors . We hope that these results may provide the answer about the role of vitamin D in prevention or, in future, in treatment of allergic diseases.
Other international projects
CELLDEX project Researchers A. Skuja and I. Kokorīte are participating in a global project led by Associate Professor Scott Tiegs of the University of Auckland. Its aim is to compare the degradation of organic matter in small rivers and their shores across all the Earth's biomass. To do this, more than 170 partners from more than 50 countries are involved in the project. Each partner is sent special cotton strips, which will serve as a standard test. They should be placed in 4 small rivers and their shores unaffected by human activity and left for a month. These strips are then sent to the United States, where they will be analyzed in the laboratory.
Designation of certain factors affecitng long-term population trends of Common Pochard Aythya ferina on Lake Engure in Latvia Project in cooperation with OMPO - European Institute for the Management of Wild Birds and their Habitats (Oiseaux Migrateurs du Palearctique Occidental, Institute for European Management of Oyster Sawmills and Habitats) (2017) Scientific supervisor Māra Janaus.
Bat migration Project in collaboration with the Leibnitz-Institute for Zoo and Wildlife Research on bat migration. (2014-2022) Scientific supervisor Oskars Keišs.
Euro + Med Plantbase. Botanical Garden and Botanical Museum Berlin-Dahlem. Berlin. 2005 → (The Euro + Med PlantBase provides an on-line database and information system for the vascular plants of Europe and the Mediterranean region) An online database of Euro-Mediterranean vascular plants. Data from Latvia are provided by the Botany Laboratory.
Atlas Florae Europaeae. Distribution of Vascular Plants in Europe. The Committee for Mapping the Flora and Societas Biologica Fennica Vanamo. Helsinki. 1972 → Serial edition to which data on the distribution of vascular plants in Latvia are submitted by the Botany Laboratory.
Salt accumulation and structural reactions in the leaves of street trees (Tilia x vulgaris) in Riga, Latvia. Cooperation project between the Institute of Biology of the University of Latvia (Laboratory of Plant Mineral Nutrition) and the Swiss Federal Institute for Forest, Snow and Landscape Research (WSL), Sciex project no. 14,038 (2014-⇒) Leading researcher Gunta Čekstere. Within the framework of the project, research is carried out on the accumulation and localization of salt in the linden leaves, tissue and cell levels of Riga street greenery in connection with plant protection and tolerance reactions. The determination and analysis of the microlocalization of salt (Na and Cl) in plants has been started using the high-technologies available in Switzerland.
EU COST Action FA1405 "Using three-way interactions between plants, microbes and arthropods to enhance crop protection and production" 10.03.2025. - 09.03.2019. L. Jankevica Direct and indirect interactions between microorganisms and arthropods on crops can strongly modify their impacts on yield. This COST Action will combine existing expertise on CAMo interactions in Europe, from basic and strategic research to agri-R&D companies, and form an interdisciplinary platform and incubator for research on mechanisms, impacts and utilization of CAMo interactions on crop yield. http://www.cost.eu/COST_Actions/fa/FA1405