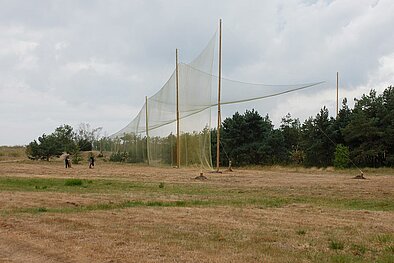 Laboratory of Ornithology
Address: Jelgavas Street 1, LV-1004 Riga and o.Vācieša Street 4, LV 1004 Rīga
e-mail: ornlab@latnet.lv
Head of the laboratory: Dr. biol. Oskars Keišs oskars.keiss@lu.lv
Staff
The laboratory has 18 employees, incl. 6 doctors of biological sciences
Dr. biol. Martins Briedis - leading researcher
Dr. biol. Mara Janaus - leading researcher
Dr. biol. Maris Strazds - leading researcher
Dr. biol. Dmitrijs Boiko - researcher
Dr. biol. Viesturs Vintulis - researcher
Dr. biol. Aivars Mednis - emeritus,
M. Sc. Antra Stīpniece - researcher
M. Sc. biol. Viesturs Vīgants (PhD student)
M. Sc. Donāts Spalis - research assistant
M. Sc. Arturs Laubergs - research assistant
M. Sc. Jānis Bētiņš - research assistant
B.Sc. Ivo Dinsbergs - research assistant (master student)
M.Sc. Rasma Aupmane - laboratory assistant
Andris Stīpnieks - laboratory assistant
Toms Endzins - laboratory assistant
Zacmane Elza - laboratory assistant
The laboratory conducts research on various issues related to birds and their habitats, mainly population ecology and demography. The research takes place mainly in two areas:
1) In a Latvian Long-Term Ecological Research Network (LTER) site - the Engure Lake Nature Park, where the LU Jānis Vīksne Engure Lake Ornithological Research Center is located;
2) LU Jānis Baumanis Pape Ornithological Research Center in Rucava Parish (bird and bat migration research).
The main goal of the research is to explain the factors directly and indirectly influencing the changes in the number of birds, including anthropogenic influences, climate change, hunting, etc. At the same time, practical recommendations are being developed to prevent negative impacts and to preserve biodiversity.
Research directions
Dynamics of Latvian avifauna
Ecology of waterbird populations
Bird and bat migration and its influencing mechanisms
Protection of birds and their habitats
Measures to improve bird habitats
Current activities
The scientists of the laboratory carry out research projects related to the study of game waterfowl (nesting success and factors influencing it, introduction of artificial nesting sites, scale and impact of hunting, migratory geese conflict with agriculture), wintering waterfowl, seabirds, white stork, black stork, corncrake and various bats and detailed research on migratory birds. Research of carry over effects and energetic fitness with a model species - Starling (Sturnus vulgaris) in specially designed nest box plots (Lake Engure, Gulbene region, Limbaži region) is also being carried out, equipping birds with geolocators.
Laboratory scientists supervise master's and bachelor's theses of LU and LUA students.
The main achievements of scientific research work
An original ringing method for newly hatched ducklings has been developed, providing a wide range of possibilities in the study of migration and population demography of these birds. The method is widely used in many European countries and North America.
Methods have been developed for attracting hole-nesting birds to forest stands for pest prevention.
The bird population regulation patterns hav been revealed, the knowledge of which is important for the sustainable use, protection or control of populations.
Techniques have been developed to increase the carrying capacity of waterfowl nesting habitats.and waterfowl nesting success
Significantly enriched knowledge about bird and bat migrations.
Consultative activity
Development of recommendations for increasing the biological capacity of bird habitats. Assessment of the impact of economic activity on birds (their habitats). Consultations on various practical issues related to birds and their protection.
International cooperation
Field research bases
1. Engure Ornithological Research Center (Engure Parish, Bērzciems) - field research station, which includes a two-storey building on the shore, a floating base, boats for work on the lake, a 12 m observation tower on Lielrova Island, etc. It is the technical basis for all ornithological research carried out in Lake BI OL Engure since 1958, and in the last 20 years also for hydrobiological, botanical and entomological research, incl. with the participation of scientists from Germany, France, Finland, the USA, Sweden, the Netherlands, Ukraine, the Czech Republic and other countries.
2. Pape Ornithological Research Center (Pape, Rucava Parish) - a field research base with a large trap for catching birds and bats in Pape, as well as nets that provide for catching birds and bats for various studies, incl. for physiological and animal orientation experiments in field conditions. The research center actively cooperates with scientists from Germany, Finland and Switzerland.
The Ornithology Laboratory works in close cooperation with the Latvian Ringing Center
All issues related to bird and bat ringing are settled and a database is maintained in Latvia and in communication with foreign ringing centers. Phone: 67945393; e-mail: ring@latnet.lv
HROMADKOVA T., PAVEL V., FLOUSEK J., BRIEDIS M., 2020. Seasonally specific responses to wind patterns and ocean productivity facilitate the longest animal migration on Earth. Marine Ecology Progress Series, 638, pp 1-12.
LINDECKE O., ELKSNE A., HOLLAND RA., PĒTERSONS G., VOIGT CC. (2019): Experienced migratory bats integrate the sun's position at dusk for navigation at night. CURR BIOL 29, 1369-1373.
LINDECKE O., ELKSNE A., HOLLAND RA., PĒTERSONS G., VOIGT CC. (2019): Orientation and flight behaviour identify the Soprano pipistrelle as a migratory species at the Baltic Sea coast. J ZOOL, 308, 56-65.
FOX, AD., DALBY, L., CRISTENSEN, TK., NAGY,S., BALSBY, TJS., CROWE, O., CLAUSEN, P., DECEUNICK, B., DEVOS, K., HOLT, CA., HOMMAN, M., KELLER, V., LANGENDOEN, T., LEHIKOINEN, A., LORNTSEN, SH., MOLINA, B., NILSSON, L., STIPNIECE, A., SVENNING, FRAIXEDAS, S., LINDEN, A., MELLER, K., LINDSTRÖM, A., KEIŠS, O., KALAS, J.A., HUSBY, M., LEIVITS, M. and LEHIKOINEN, A., 2017. Substantial decline of Northern European peatland bird populations: Conequences of drainage. Biological Conservation, 214, pp. 223-232.
BRIEDIS, M. and KEIŠS, O. 2016. Extracting historical population trends using archival ringing data—an example: the globally threatened Aquatic Warbler. Journal of Ornithology 157 (2): 419-425.
CERA, I. and KEIŠS, O., 2016. Spider species new to the fauna of Latvia and new localities for Gnaphosa lapponum and G. nigerrima (Araneae: Gnaphosidae). Latvijas Entomologs, 53, pp. 122-124.
FOX, A.D., CAIZERGUES, A., BANIK, M.V., DEVOS, K., DVORAK, M.,
ELLERMAA, M., FOLLIOT, B., GREEN, A.J., GRÜNEBERG, C., GUILLEMAIN, M., HÅLAND, A., HORNMAN, M., KELLER, V., KOSHELEV, A.I., KOSTIUSHYN, V.A., KOZULIN, A., LAWICKI, L., LUIGUJÕE, L., MÜLLER, C., MUSIL, P., MUSILOVÁ, Z., NILSSON, L., MISCHENKO, A., PÖYSÄ, H., ŠČIBAN, M., SJENIČIĆ, J., STIPNIECE, A., ŠVAŽAS, S. and WAHL, J., 2016. Recent changes in the abundance of Common Pochard Aythya ferina breeding in Europe. Wildfowl, 66, pp. 22-40.
FOURCADE, Y., RICHARDSON, D.S., KEIŠS, O., BUDKA, M., GREEN, R.E., FOKIN, S. and SECONDI, J., 2016. Corncrake conservation genetics at a European scale: The impact of biogeographical and anthropological processes. Biological Conservation, 198, pp. 210-219.
JC., and WAHL, J., 2016. Seeking explanations for recent changes in abundance of wintering Eurasian Wigeon (Anas penelope) in northwest Europe. Ornis fennica, 93(1), pp. 12-25.
KOFFIJBERG, K., HALLMAN, C., KEIŠS, O. and SCHÄFFER, N., 2016. Recent population status and trends of Corncrakes Crex crex in Europe. Vogelwelt, 136, pp. 75-87.
KONOVALOV, A., KALDMA, K., BOKOTEY, A., BROSSAUT, P., CHAPLAIN, F., DMITRENOK, M., DZYBENKO, N., VÄLI, Ü., STRAZDS, M. and STERNA, L., 2015. Spatio-temporal variation in nestling sex ratio among the Black Stork Ciconia nigra populations across Europe. Journal of Ornitology, 156(2), pp. 381-387.
KAZARINA, A., JAPIŅA, K., KEIŠS, O., SALMANE, I., BANDERE, D., CAPLIGINA, V. and RANKA, R., 2015. Detection of tick-borne encephalitis virus in I. ricinus ticks collected from autumn migratory birds in Latvia. Ticks and Tick-borne Diseases, 6(2), pp. 178-180.
PAVOL-JORDAN, D., FOX, A. D., CLAUSEN, P., DAGYS, M., DECEUNICK, B., DEVOS, K., HREARN, R.D., HOLT, C.A., HORNMAN, M., KELLER, V., LAGENDOEN, T., LAWICKI, L., LORENSTEN, S. H., LUIGUJOE, L., MEISSNER, W., MUSIL, P., NILSSON, L., PAQET, J. Y., STĪPNIECE, A., STROUD, D. A., WAHL, J., ZENATELLO, M., LEHIKOINEN, A., 2015. Climate-driven changes in winter abundance of a migratory waterbird in relation to EU protected areas. Diversity and Distrubitions, 21(5) pp.571-582. DOI: 10.1111/ddi.12300
STRAZDS, M., BAUER, H. G., VÄLI, Ü., KUKĀRE, A. and BARTKEVIČS, V., 2015. Recent impact of DDT contamination on Black Stork eggs. Journal of Ornithology, 1-12., DOI 10.1007/s10336-015-1244-z
CAPLIGINA, V., SALMANE, I., KEIŠS, O., VILKS, K., JAPINA, K., BAUMANIS, V. and RANKA, R., 2014. Prevalence of tick-borne pathogens in ticks collected from migratory birds in Latvia. Ticks and Tick-borne Diseases, 5(1), pp. 75-81.
FOURCADE, Y., KEIŠS, O., RICHARDSON, D.S. and SECONDI, J., 2014. Continental-scale patterns of pathogen prevalence: A case study on the corncrake. Evolutionary Applications, 7(9), pp. 1043-1055.
KRÜGER, F., CLARE, E.L., SYMONDSON, W.O.C., KEIŠS, O. and PETERSONS, G., 2014. Diet of the insectivorous bat Pipistrellus nathusii during autumn migration and summer residence. Molecular ecology, 23(15), pp. 3672-3683.
DUESER, R.D. MONCIERIEF, N.D. KEIŠS, O., MARTIN, J.D. PORTER, J.H.and TRUITT, B.R. (2013) Overwater Movement of Raccoons (Procyon lotor) in a Naturally Fragmented Coastal Landscape. Northeastern Naturalist, 20(3), pp. 511–528.
VOIGT, C.C., SöRGEL, K., ŠUBA, J., KEIŠS, O. and PĒTERSONS, G. (2012) The insectivorous bat Pipistrellus nathusii uses a mixed-fuel strategy to power autumn migration. Royal Society ProceedingsB, 279(1743), pp 3772-3778.
HERMANN, Ch., HARIO, M., TJEMBERG, M., THORUP, O., FEDOROV, V., KIECKBRUCH, J., STĪPNIECE A. and STERNIK, L., 2011. Red List of Baltic Breeding Birds. Version. Helsinki Commission. Environment Protection Commission. 115 pp.
TUBELYTE, V., ŠVAŽAS, S., SRUOGA, A., BUTKAUSKAS, D., PALAUSKAS, A., BAUBLYS, V., VĪKSNE, J., GRISHANOV, G. and KOZULIN, A. 2011. Genetic diversity of tufted duck (Aythya fuligula, Anatidae) in Eastern Europe. – Central European Journal of Biology, 6(6), pp. 1044-1053. DOI: 10.2478/s11535-011-0083-z.
SKOV, H., HEINĀNEN, S., ŽYDELIS, R., BELLEBAUM, J., BZOM ,S. A., DAGYS, M., DURICK, J., GARTHE, S., GRISHANOV, G., HARIO, M., KIECBUSH, J.J., KUBE, J., KURESOO, A., LARSSON, K., LUIGUJOE, L., MEISSNER, W., NEHLS, H.W., NILSSON, L., PETERSEN, I.K., ROOS, M.M., PIHL, S., SONNTAG, N., STOCK, A., STĪPNIECE, A. and WAHL, J. 2011. Waterbird Populations and Pressures in the Baltic Sea. TemaNord 2011 pp. 550. http//www.norden.org/en/publcations/publikationer/2011-550.
VĪKSNE, J., SVAZAS, S., CZAJKOWSKI, A., JANAUS, M., MISCHENKO, A., KOZULIN, A., KURESOO, A., SEREBRYAKOV, V. 2010. Atlas of Duck Populations in Eastern Europe. Akstis, Vilnius. 199 p.
ŽYDELIS, R., BELLEBAUM, J., ÖSTERBLOM, H., VETEMAA, V., SCIRMEISTER, B., STIPNIECE, A., DAGYS, M., van EERDEN, M. and Garthe, S., 2009. Bycatch in gillnet fisheries – An overlooked threat to waterbird populations. Biological Conservation, 142, pp.1269-1281.
VĪKSNE, J., JANAUS, M. un STĪPNIEKS, A., 2008. Ūdensputnu medības Kaņiera ezerā 1993. – 2005. gadā – dabas resursu nenoplicinošas izmantošanas piemērs. Grām: Aktuālā savvaļas sugu un biotopu apsaimniekošanas problemātika Latvijā., Rīga, lpp. 143-162.
VĪKSNE, J. 2006. Waterbirds bagged by hunters at the beginning of autumn hunting season on waterbodies of Latvia in 1993-2004, OMPO Newsletter, 26, pp. 5-14.
VĪKSNE J., MEDNIS, A., JANAUS, M., and STIPNIECE, A., 2005. Changes in the breeding bird fauna, waterbird populations in particular, on Lake Engure (Latvia) over the last 50 years. Acta Zoologica Lituanica , 15(2), pp. 188 – 194.