PROJECT "APPROBATION OF MICROALGAE CULTIVATION IN CLOSED AQUACULTURE SYSTEMS AND EVALUATION OF THEIR EFFICIENCY IN FISH FEED"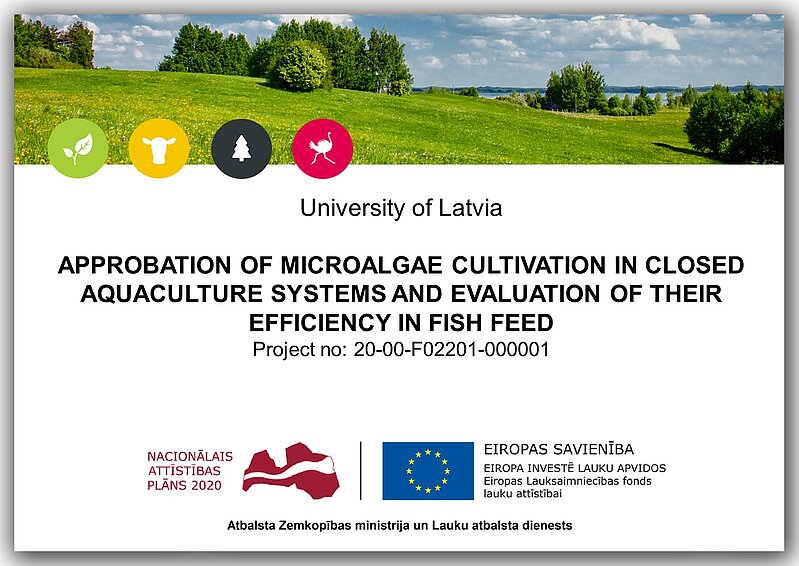 Project "Approbation of microalgae cultivation in closed aquaculture systems and evaluation of their efficiency in fish feed" (nr. 20-00-F02201-000001) is implemented within the framework of the European Maritime and Fisheries Fund (EMFF) measure 22.01 "Innovation".
Project coordinator (Lead partner): University of Latvia (UL Institute of Biology)
Project cooperation partner: society "Kurzemes Zvejniecības Ražotāju Organizācija"
Project implementation term: 01.12.2020.-31.08.2023.
Objective of the project: to develop a method for obtaining a mixture of fish feed based on microalgae to replace traditionally raw materials used, such as fishmeal and fish oils.
Project topicality:
Although the aquaculture industry offers advantages in protein production, there are a number of problems associated with fish feeding. At present, commercial fish feed producers mainly use fishmeal and fish oil, which requires small fish take, as well other resources. This way of obtaining raw materials is not sustainable and does not ensure efficient use of resources.
To address these problems, microalgae feed can be used to completely or partially replace fishmeal and fish oil in aquaculture feed. Microalgae can provide all the nutrients required by aquaculture fish, improving fish health and providing a natural meat color, while reducing the negative environmental impact of fishmeal and oil production.
Planned activities and results of the project:
Durig the project the productivity for target compounds of varied microalgae cultures will be evaluated, microalgae cultures cultivation conditions will be selected and optimized. Prescription will be developed to obtain an experimental microalgae feed mix. Its effectiveness will be tested in fish farms. As an outcome of the project, it is planned to develop a method for obtaining a mixture of microalgae based fish feed.
Total budget: EUR 397 500,00 (incl. EMFF support EUR 357 749,97)
UL total budget: EUR 397 500,00 EUR (incl. EMFF support EUR 357 749,97)
Contacts: The scientific leader of the project Pāvels Semjonovs, Dr. biol., pavels.semjonovs@lu.lv
The implementation of the project is supported by the Rural Support Service and the Ministry of Agriculture of the Republic of Latvia.
More information on the European Maritime and Fisheries Fund is available on the European Commission's website.